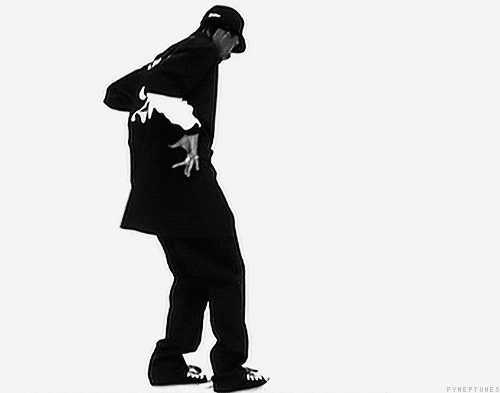 ">[ Image Source ]
In an era filled with mumble "rappers," many are searching for substantial rap and hip hop amongst the vast array of hip hop and rap sub genres. Are you searching for substantial hip hop or rap but struggling to find anything? You've come to the right place if you find that you like the playlist below. This is my interpretation of what I find to be good rap and hip hop.
"Hip hop" was born out of 1970 block parties in the Bronx.   Hip hop originates from artists like Sugar Hill Gang and Fab Five Freddy.  These artists focus on positive, uplifting messages; these messages encourage the listener to be optimistic for the future. Drums, synths and turntables are staples of hip hop. While hip hop generally remains on the positive side of the spectrum, rap is quite the opposite.  Rap focuses on societal issues, candidly presenting pressing issues and debates to the listener.  Rap takes a more cynical, realistic, and critical tone, bringing awareness to societal qualms. Yet, rap has moves towards mass production, the mainstream media has taken hold of the genre and changed one of its most defining aspects, the lyrics and their delivery.
 We've seen how hip hop and rap are very similar in that they each incorporate a certain cadence in their poetic lyrics. I know the question on your mind is, "what about mumble rap?" Mumble rap has done away with this tradition. If you can make a case to me that Lil' Pump and his creative "Gucci gang, Gucci gang, Gucci gang" can stand up Tupac, please speak up now. This consumer driven genre's topics are money, sex, and drugs, and not in the way that socially conscious rappers have.
Mumble rap has taken the hip hop/rap tradition and distorted the complex fabric of  artists that came before them.  I believe they have shown disrespect for that tradition with their words and actions. In an interview with The Guardian, Lil' Yachty stated "Older hip-hop people, they don't understand evolution, or just don't want it. One of the two." I don't think that this suburbs born rapper meant this with any malicious intent.  Yet, he insults the older generation of hip hop's intelligence by staying that they can't comprehend change.  Lil Yachty has described his music as "bubble trap," and in that classification and the interview with The Guardian, so he does acknowledge his consumer driven brand.  This is exactly what hip "pop" is, a genre with a tinge hip hop/rap overlaid with the sugary consumer culture lyrics about friendship and partying.  Instead of "bubble trap," I'll call this mumble pop and classify it with hip pop.
Clearly hip hop and rap are very similar. The two familiar genres are cohesive, and often difficult to distinguish from one another.  Ultimately the main difference is the culture that is produced from the genre.  Some people believe that hip hop and rap are the same, some people don't.  I see it as two sides of the same coin.  Mumble rap on the other hand is an outlier that makes me feel uneasy for the future of hip hop and rap.
There are many differing options on the definition of rap and hip hop. Ultimately the debate continues; these labels are elusive, constantly changing, and always contextual.
I think that lyrical legend KRS One puts it best, "Rap is something you do, but hip hop is something you live."
Do you like mumble rap? Who are your favorite rap and hip hop artists? Comment below.
Here is a mashup of my favorite old and new hip hop and rap tracks:
DISCLAIMER: This playlist is NSFW
"Honest Expression" – Binary Star
"Rapp Snitch Knishes" – MF DOOM ft. Mr. Fantastik
"Somebody's Gotta Do It" – The Roots
"How Many Mics" – Fugees
"Hip Hop"- Dead Prez
"Bubblegoose – Bakin' Cake" – Wyclef Jean
"Pump Pump" – Snoop Dogg ft. Lil' Malik
"Quiet Storm" – Mobb Deep
"Spaz Out"- Jedi Mind Tricks
"Alphabet Aerobics" – Blackalicious (he raps through the alphabet, so good.)
"Trunk Muzik" – Yelawolf
"Like I Am"- Ritz
"HiiiPower"- Kendrick Lamar
"Pink Matter" – Frank Ocean ft. Andre 3000
"Slow it Down" – Little Brother
"My House" – MF Grimm
"Da Rockwilder"- Method Man and Redman
"When I B On Tha Mic" – Rakim
"You Ain't a Killer"- Big Pun
Find this playlist on Spotify
Sources:
Aroesti, Rachel. "Lil Yachty: 'Older Hip-Hop People Don't Understand Evolution – or Don't Want It'." The Guardian, Guardian News and Media, 18 May 2017, www.theguardian.com/music/2017/may/18/lil-yachty-im-like-the-outcast-of-hip-hop.
Glynn, John. "Rap vs Hip Hop: What Is the Difference?" I Am Hip-Hop Magazine, 2 July 2015, www.iamhiphopmagazine.com/rap-vs-hip-hop-difference/.
Kane, Peter. "'Mumble Rap' Poorly Represents Hip-Hop's History and Tradition." The Daily Cardinal, 8 Feb. 2018, www.dailycardinal.com/article/2018/02/mumble-rap-poorly-represents-hip-hop.
Majestic , Mikee. "Review: KRS One At The Garage – London! (@IAmKRSOne)." I Am Hip-Hop Magazine, 16 Apr. 2015, www.iamhiphopmagazine.com/review-krs-one-at-the-garage/.
Nikita. "Difference between Hip Hop and Pop." Difference Between-Descriptive Analysis and Comparisons, 13 Aug. 2015, Nikita. "Difference between Hip Hop and Pop." Difference Between-Descriptive Analysis and Comparisons, 13 Aug. 2015, www.differencebetween.info/difference-between-hip-hop-and-pop.